YOGA THERAPY PROFESSIONAL TRAINING
This training course relates closely to Nature, integrating yoga therapy into everyday life. It is immersed in compassionate based practices. We purposefully keep student numbers small to ensure quality teachings and a person centred approach. The trainings will provide you with the essential skills to become a skilled professional yoga therapist as well as help support you on your own health journey and Self development
Fully accredited with The British Council of Yoga Therapy (BCYT)
Quality assured by The British Wheel of Yoga (BWY)

Stage ONE: 50hr BWY FOUNDATION NQF LEVEL 3 MODULAR COURSE

Starting 23rd March 2024
On-line and in person (West Oxfordshire)
Following a successful application process, the foundation course leads to
Stage TWO:  500hr STAGE TWO NQF level 4 COURSE LEADING TO RECOGNISED QUALIFICATION AS A PROFESSIONAL YOGA THERAPIST
"Taking this course has been one of the best things I have ever done. I have learned so much and developed both personally and professionally. Nikki and Vicky are hugely knowledgeable in their fields and wonderfully supportive. They have guided us through the last two years with skill and compassion and I will forever be grateful for their teaching and support. I would highly recommend this course to anyone looking to train in yoga therapy". (Yoga Therapy final student 2022)
"I cannot speak highly enough of the organisational skills, hands on experience, knowledge and hard work of Nikki and Vicky in delivering the course. Their teaching was exceptional".  (Yoga Therapy student end of course 2022) 
"I would suggest that anyone considering training as a Yoga Therapist, should take this foundation course. It provides an immense amount of valuable information, which makes you a better Yoga Teacher, even if you do not wish to continue the Yoga Therapy Journey" 
 (2020 student)
Nikki and the trainers on this course have a combined wealth of experience in yoga therapy,  working within The NHS, private sector and other health services since 1992.  They believe in keeping yoga therapy authentic with an emphasis on Self-compassion and Nature connections. 
''We whole heartedly believe in the healing power of Nature and in the natural life process"
(Yoga Focus therapy trainers)
Stage ONE – The foundations
(compulsory first stage of full training)
Online starting 23rd March 2024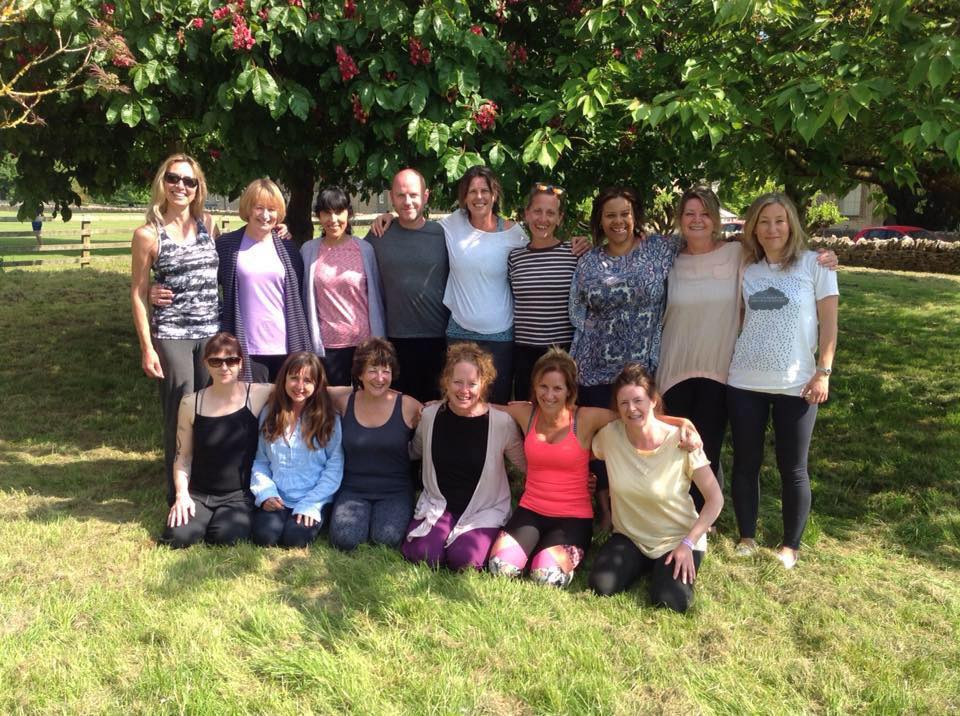 An experiential course that encourages creative thinking in learning how to use Yoga Therapy Models and adapt practises for the needs of  clients suffering from physical or mental health conditions.  We advocate a non prescriptive, 'no one cure fits all' and a 'person centred' approach throughout the course.

This course is designed for:
Yoga teachers to develop therapeutic skills in providing safe and effective Yoga Therapy practices for chronic physical and mental health conditions. A  minimum of 200 hours yoga training and 2 years post training teaching experience is requested
Health professionals from therapeutic backgrounds both from NHS and private sector, seeking to improve their knowledge and skill in the mind and body relationship
The course places emphasis on our connections with the healing powers of Nature.   Each training day will consist of exploring Yoga Therapy conditions, through case studies, in areas of health such as :
The Elderly
Mental Health
Cardiovascular
Respiratory
Cancer
Neurology
Spinal and
Musculoskeletal
There will also be seminars on the Anatomy and Physiology relating to medical conditions explored and how to apply them in yoga therapy sessions.
Mindful compassionate based practise will be at the heart of the training encouraging the trainee to explore their own health imbalances to further understand the health imbalances of others.
Stage TWO
due to start in October 2025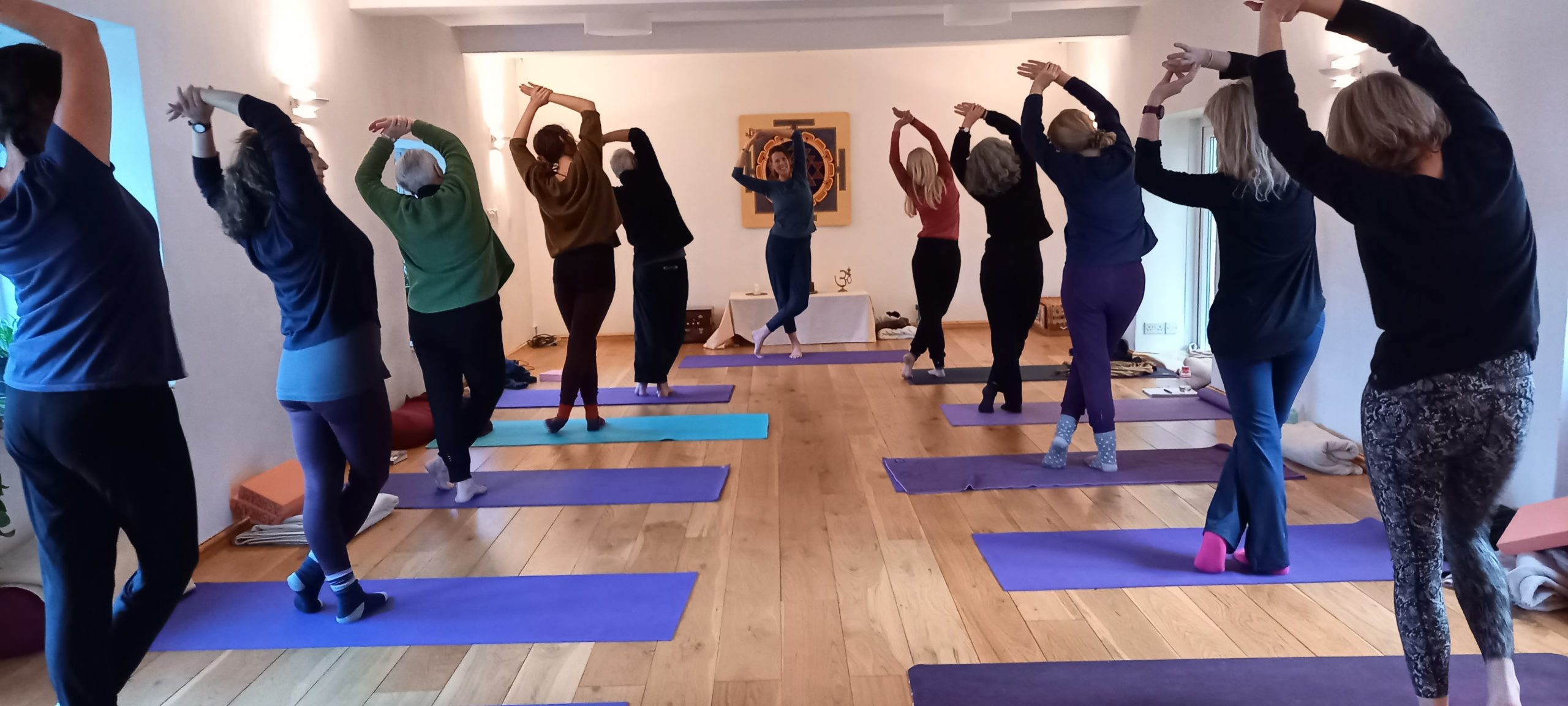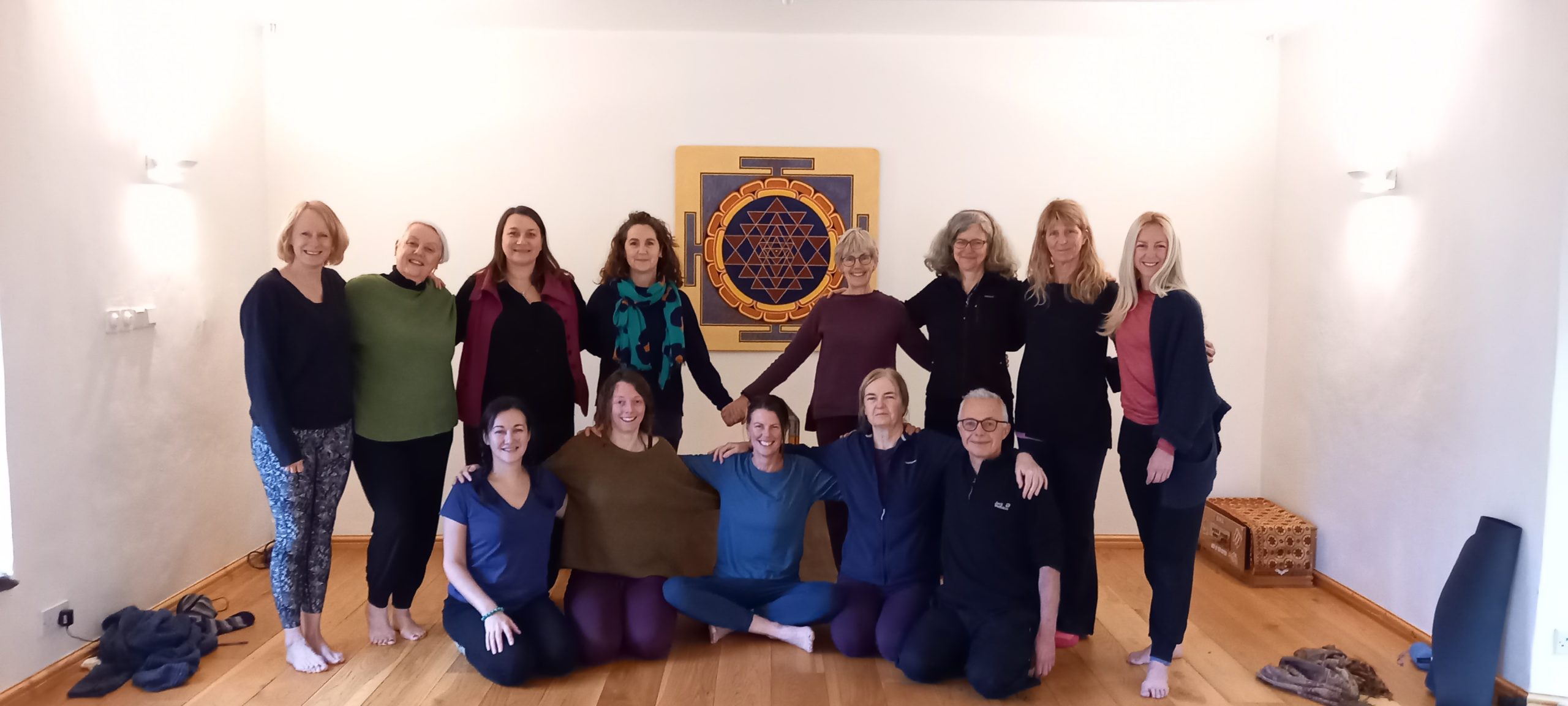 This is the full Yoga Therapy course that will be accredited by the British Council of Yoga Therapy and will lead to a qualification as a Professional Yoga Therapist.
Once you have successfully completed Stage One, the foundation course, you can apply for Stage Two by writing a 2,500 essay on "The value of Yoga Therapy in the world today".
The course will teach you skills to become a therapist and provide the knowledge, skill and confidence to assess clients thoroughly, implement therapy and evaluate outcomes. Whilst this is a vocational course, there is an academic aspect with 8 assignments to complete (approximately 2000 – 2500 words), 3 case studies, a project on a condition to research in your own time, student presentations and other assessments such as observing a yoga therapist. The course will consist of the following retreats:
Seven day retreat One at The Mandala Ashram – South Wales
Seven day retreat Two at The Mandala Ashram – South Wales
Eight x 2 day weekend trainings – West Oxfordshire
Day trainings – West Oxfordshire
21 term time on line seminars Wednesdays 6-8pm
You will be required to shadow a Yoga Therapist which can be local to your area. You will also have regularly yoga therapy during the course and you will receive regular one to one supervision to develop your skills as a professional yoga therapist.
''I feel lucky to have benefited from Nikki's deep and wide knowledge and loved her style of teaching and compassionate approach''
INTELLECTUAL PROPERTY RIGHTS
Nikki Jackson has asserted her right to be identified as the author of both The Stage One Foundation Course and Stage Two, in accordance with the Copyright, Designs and Patents Act 1988 .  Any information on this website, any materials supplied on courses, including manuals, Power point slides, images, handouts and video recordings are the Copyright of Yoga Focus and will remain with the Author (s).